OJI MASANORI
Born in 1974 in Hiroshima, Japan. Oji graduated from Hiroshima Institute of Technology in Environmental Design and Architecture. In 1999, he established 'msg.'after working for different architectural and graphic design firms. He eventually moved to Tokyo and renamed the company, 'Oji & Design'. Oji is mainly working on designing living products and has dedicated himself in creating them while considering design and functionality for everyday life. Oji has designed not only a product itself but also its package and graphics while considering the overall process of how a product is born.
RYOTA AOKI
Ryota Aoki was born in 1978. He dresses in Comme de Garcons, wears a turban and ear piercings and works in a studio that looks like a secret hide-away with made-in-Japan rap blaring in the background. But what he does there is to engage in a conversation with the soil of Japan, with its earth. Aoki is a potter who has brought the refined and super-conservative ivory tower world of ceramics, remote from contemporary Japan, into the middle of cutting-edge street culture. In his 20s, Aoki did not have a fancy academic pedigree; he had made and placed clothing and jewelry in boutiques and apprenticed in a beauty salon, but neither job lasted long. While attending a pottery class in his spare time, Aoki was suddenly inspired with a vision of being a potter covered in clay and creating beauty -- and on the spot, he set his sight on becoming a first class potter. Today, Ryota Aoki is one of the most talented artists of his generation, his world reflects minimalism, hard work, and detail. Aoki's original ceramic expresses both elegance and simplicity, supported by his enormous amount of research. Especially, his exhaustive research on glaze, which has resulted in the white dish series that required him 2 years to create.
NOBUHO MIYA (KAMASADA)
Born in Morioka in 1952, Nobuho Miya is the head of a third-generation "Kamasada" ironware workshop founded in the Meiji era. He completed a Masters course in iron casting at the prestigious Tokyo National University of Fine Arts. His work is unique not only in its technique but in its simplicity and elegance. His work has been exhibited worldwide including the Metropolitan Museum of Art in New York.
NOUSAKU
Nousaku was founded in Toyama Perfecture in 1609 by Toshinaga Maeda. Nousaku began manufacturing Buddhist altar fittings using casting techniques handed down over four hundred years. Casting is a method of making products by pouring molten metal into a mold called as "imono". Each product is made using advanced techniques. Employing casting methods and metals ( such as tin, brass, bronze, and aluminum) selected to suit the purpose and the product, Nousaku creates products with a superbly unique texture. In their early days, Nousaku made Buddhist altar fittings, tea sets, and flower vases, later adding table wares, interior products, and construction metals to its lineup. Nousaku continues to preserve the values of Takaoka Copper as traditional craft. Their mission is to integrate the tradition, techniques, and spirit results on to the next generation. Nousaku continues to take on creative challenges that go beyond conventional fields to create exquisite and unique products that embody " Nou (skill) and that shape our curiosity toward "Saku" ( creation).
KIHACHI STUDIO
Yamanaka in Ishikawa Prefecture, with a history date back over 400 years, is one of the four biggest centers of lacquerware, the others being Wajima, Aizu and Kishu. The special feature of Yamanaka lacquerware is the technique of producing unlacquered wooden base with a Rokuro, a electric wheel. KIHACHI STUDIO is the oldest manufacturer using domestic wood in the Yamanaka area, which was founded by second generation Kihachi. The sense of modern blended with traditional sentiments, Kihachi Studio's lacquerware has established a reputation among numerous of interior shops in Tokyo and abroad. Especially, 'Usuhiki-Bachi', an extremely thin bowl made by a skilled artisan, is a work of art with unsurpassed depth and exquisite beauty meant to be displayed like an ornament.
TAKAZAWA
Takazawa began making candles around 1650 in Nanao, the largest city in the northern part of Ishikawa. The wax is made from a special type of Japanese tree, and the wick is made from a rush, or Japanese-style paper (washi). These traditional candles are completely made of natural ingredients. It is said that these types of candles are brighter and last longer than Western-style candles.
KUTANI CHOEMON



The Kutani Choemon workshop was founded in 1879 in Ishikawa prefecture, Japan. This workshop, who received two awards from the emperor, has been making tableware and tea ceremony utensils for over 130 years in an integrated system of production from raw material to finished products. Although it is a small company, every piece of work is carefully handmade and hand-painted by experienced craftsmen. Their products feature rich blue and white colors and traditional Kutani color glazes.
Japanese craft and its techniques are passed from generation to generation for decades. Thanks to all the natural material that Japan has to offer, many crafts and local specialities are most often made by hand.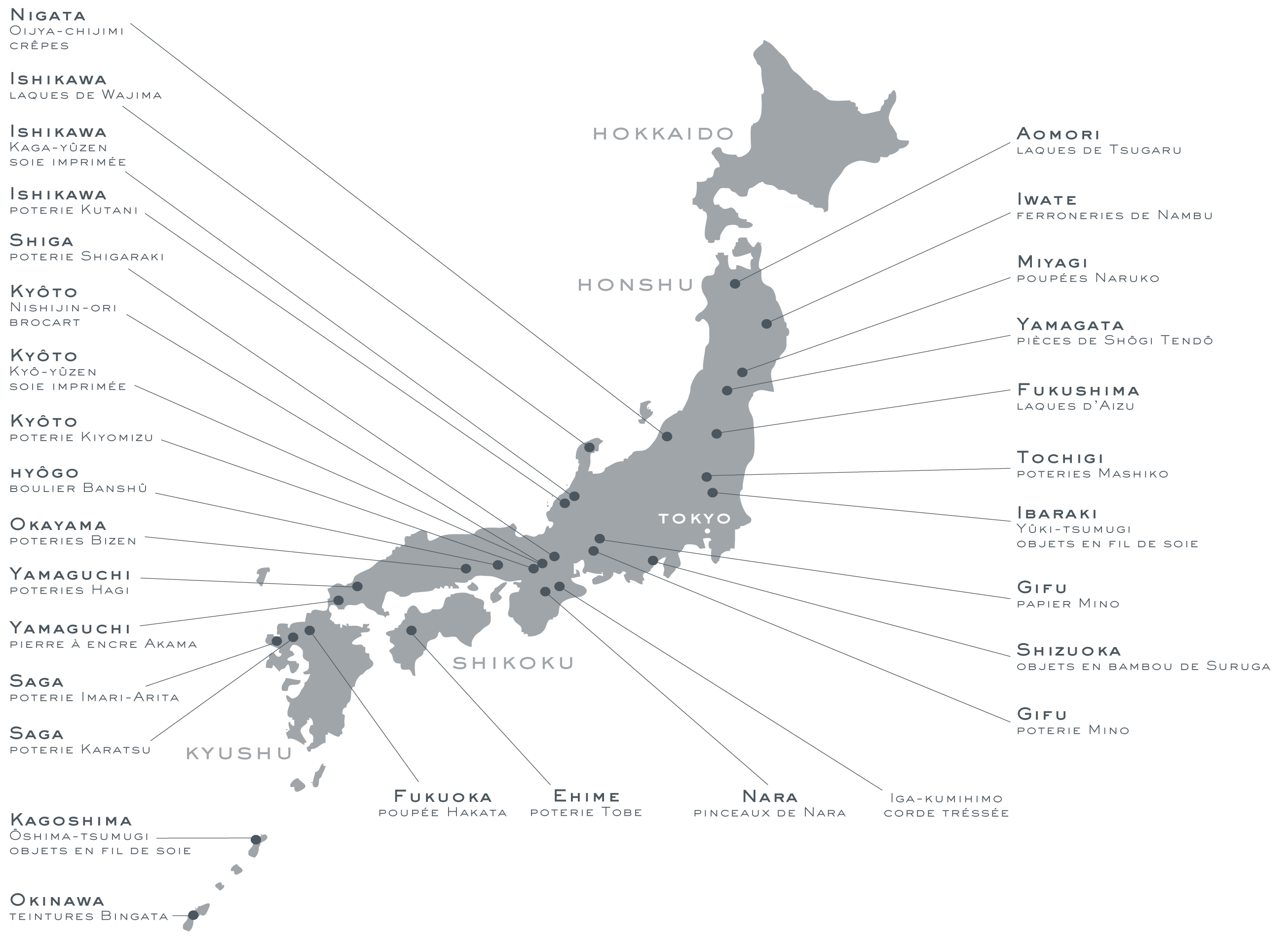 Shopu's original collection reflects the care with which these objects were selected and represents the time spent researching and exchanging with Japan.
Through this site and its selection, you can find artists, designers, studios or centuries-old-houses. They are often the most talented of their generation, such as OJI MASANORI, AOKI RYOTA, NOBUHI MIYA (KAMASADA), NENDO or NOUSAKU...Their work is unique, and with their technique, their simplicity and elegance, they continue to preserve the values of Japanese traditional crafts and to create exceptional objets.